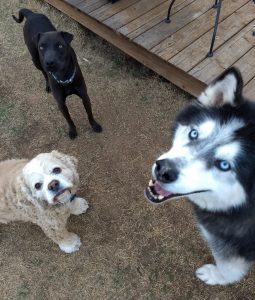 We take the stress out of leaving town or working long hours by providing dependable and loving care for your pets. In-home pet sitting eliminates the stress of transporting pets to kennels or other caregivers in unfamiliar surroundings. Dog walking or play visits provide exercise, attention, and potty breaks for pets when work, appointments, or recreation keeps you away from home. We provide customizable care and individualized attention for your pets while maintaining consistency in their routine.
We are fully committed to providing safe, reliable, and loving care while keeping your pets happy at home. We are bonded, insured, professional and experienced in caring for pets while giving you the peace of mind that your pets are safe and happy. We take your trust in us very seriously and do our very best to provide compassionate and professional care for your pets while keeping in mind their safety and the security of your home.
Here's what some of our clients say about us:
"As soon as we met Angie, we knew she was the person we were searching for. In addition to being the ultimate professional pet sitter, she is also an obvious pet lover. She was gentle and caring with our three dogs, and also very observant of each of their personalities. We got daily correspondence, and a very informative pet "report card" at the end of the week when we got back. We definitely look forward to having her care for our pets in the future. Great experience, for them and for us!"
— E.M. L.
"Angie watches our 2 dogs and cat a few times a week, and she is great. She is reliable, trustworthy and professional. Even our cat likes Angie, and she (our cat) doesn't like anybody. "
— K. P. T.
Credentials and Certifications