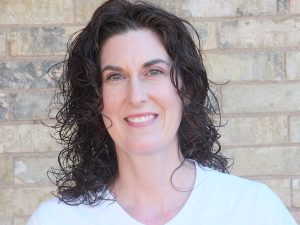 Angie Jamison, the founder of Joyful Pets Services, is a pet care professional providing high quality, reliable care to pets and the people who love them. She is a longtime animal lover who holds a Bachelor's and Master's degree in Biology. After a career as a teacher and professor, she began a career as a pet care professional. She is a member of Pet Sitters International, is a Certified Professional Pet Sitter (CPPS), and a life-long learner. She is committed to continuous education in order to provide outstanding care for all pets. She and her business are also bonded, insured, background checked, and trained in Pet First Aid and CPR.
In 2015, she founded Joyful Pets Services with the goal of providing reliable, compassionate, and professional pet care services to clients in Lubbock, Texas. She is passionate about offering the very best care possible, treating each pet as if they were a member of her own family.
When not caring for other people's pets, Angie spends time with her own furry family, as well as her human family and friends. She also enjoys hiking, reading, traveling, and outdoor adventures.
Contact Us to discuss pet sitting options for your pets.
In the Beginning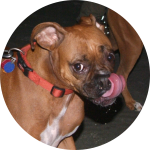 Joyful Pets Services began as an answer to prayer while I was walking my sweet dog, Darby. Not only was the career change and business name inspired from Bible study and prayer (see 1 Thessalonians 5:16-18), but Darby provided additional motivation.
Darby was an incredible and energetic Boxer who we adopted from a rescue when she was six months old. Although she was overcoming some health challenges and underweight, she was incredibly active, playful, loving, and gentle. She quickly settled in with our family, instantly bonding with her big Boxer brother, Oscar, who helped teach her the ropes. He even demonstrated how to properly perform commands, such as "sit" and "down" to help her learn quickly while providing lots of encouragement, snuggles and playtime.
Darby was a beloved family member who loved to play, run, hike, travel, and snuggle. Unfortunately, some of her active antics caused two knee injuries, resulting in multiple surgeries. Darby had a very high pain tolerance and didn't know her own limits, so I became fiercely protective of her by limiting some of her rambunctious activities and attempted to redirect her abundant energy towards safer, controlled activities to prevent further injury. Restricting her from romping with other dogs or risk injury while playing was paramount, so boarding and doggie day cares were not realistic options for her. In-home care was the best option to keep her safe and healthy when we traveled and were not able to bring her with us. Having a professional pet sitter care for her and Oscar in our own home was the best decision!
I wanted to offer that same peace of mind for other pet parents by providing loving, protective, and professional pet care in their own homes. That's when the motto for Joyful Pets Services was born: "keeping your pets happy at home". Darby was the initial "mascot" for Joyful Pets Services and her picture then inspired the animated dog pictured on the current logo. Although we are still heartbroken by Darby's passing in 2018, her loyal, happy and playful spirit is still what drives us each day to provide compassionate and professional care for all pets in their own homes.
– Angie Jamison, Founder of Joyful Pets Services
Honesty and integrity
Promote pet safety, well-being, and vibrant health
Reliable, trustworthy, and professional
Love and compassion towards all pets
Care for client's homes and pets as if they were our own
"The Golden Rule": treat others the way we want to be treated
Committed to continued education and professional development
What Our Clients Say About Us
"Joyful Pets Services was recommended to us two years ago. We have used Angie several times since! All of our pups love her so much! They do so much better staying at home with Angie than going to the boarder as we had always done in the past. I have recommended her since to numerous family and friends who all feel the same way! She is reasonable in price and the tender loving individualized care is worth more than we could ever afford! Thank you Angie for loving our pets as if they were your own!"
— T.D.C.
"I've had such great experiences with Joyful Pet Services. First, they're incredibly thorough and professional, giving me a detailed breakdown of the time spent with my cat and any issues that may have arisen. Secondly, they're extremely flexible and accommodating — when we had house key issues, they were happy to work with us until it was resolved. Finally, when they take care of my cat when I'm away, it just takes the weight off my shoulders since I know he's in good hands — they truly care about the pets they take care of. My cat can be a little picky, and they work very hard to ensure that he's eating appropriately. They check in with me regularly and I know he's getting the best care. I cannot recommend them highly enough!" — R. R.